Environics
Established in 1999, with a significant track record of hundreds of contracts of different sizes, Environics is a leading Egyptian firm in the field of environmental, energy and sustainable development consultancy services.
Environics provides a wide range of services contributing to the development of a number of sectors, including: Energy; Industry; Infrastructure and Transport; Oil and Gas; Tourism; Mining; Water Resources; Agribusiness and Foods, and Agriculture and Reclamation.
Clients
National regulators and governmental authorities
International consultancy firms
Donor agencies and international organizations
Local and foreign businesses
Local state-owned enterprises
National and International Non-governmental Organizations (NGOs)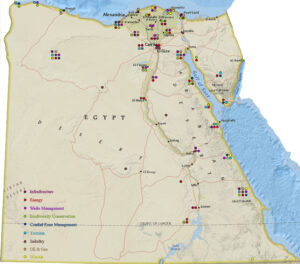 Geographic Scope
Services mainly provided in Egypt, occasionally extending to Arab countries, including: Saudi Arabia, UAE, Libya, Algeria, Syria, Oman and Qatar.  
Certification
Certified environmental consultancy by the Egyptian Environmental Affairs Agency (EEAA), the Egyptian General Petroleum Corporation (EGPC), and the Egyptian Natural Gas Holding Company (EGAS), among other entities.